Shirin Neshat is an Iranian artist in exile known for her outstanding work in film, video and photography. She has been recognized with many awards for her dedication to reflecting "the ideological war being waged between Islam and the secular world over matters of gender, religion, and democracy," and because "the impact of her work far transcends the realms of art in reflecting the most vital and far-reaching struggle to assert human rights". In a TED talk presentation (posted below), Shirin Neshat explains the joys and struggles of her efforts to represent and speak for her Iranian people.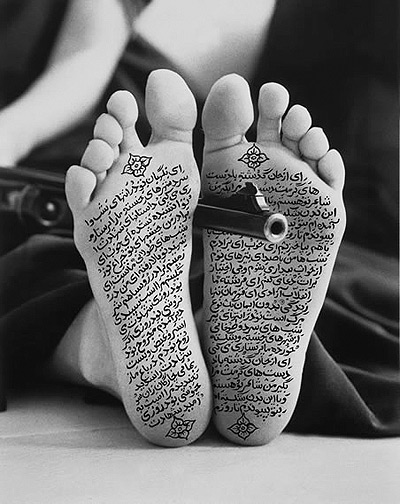 Also have a look at a previous post about Women Without Men, a film directed by Shirin Neshat. The film
offers an exquisitely crafted view of women rights today in Iran, as compared to Iran in 1953.
Read more on the film here.
You can also read more on Shirin Neshat from an article written by G.Roger Denson at The Huffington Post entitled
Shirin Neshat: Artist of the Decade
.