In 2009, Ghana held one of the most anticipated elections yet, with much expectation
for a smooth transition. Directed by Jarreth Merz, An African Election is a film that "that looks behind-the-scenes at the complex, political machinery of a third world democracy struggling to legitimize itself to its first world contemporaries."A successful kickstarter campaign was launched the fund the screening of this documentary across the country.

Watch the official trailer here:
Meanwhile, Ghanaians are preparing for yet another election which will take place in December. The late President John Atta Mills passed away in July due to a long battle with illness. Hours after releasing a formal statement signed by the chief of staff, the former Vice President John Dramani Mahama was sworn in as the President of Ghana. The west African country was been applauded for the orderly and timely fashion in which this was done. I happened to be in Ghana when this occurred and was amazed by what I observed from the media, the government, and citizens.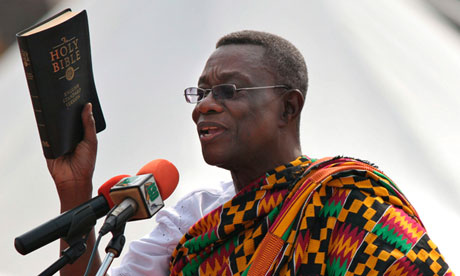 Photograph: Haydn West/EPA
To help ensure a free and fair election,
Ghana Decides
is a project that works to foster a better informed electorate. The team works using social media and has acquired quite a following on
twitter
and
tumblr
. There is still much speculation about how the passing of the late President John Atta Mills will affect this season of elections. Regardless of which party wins, the hope is that the process will be peaceful, and the party chosen will truly be the choice of the people.